Today we're taking a look at Now Foods Artichoke Extract Capsules.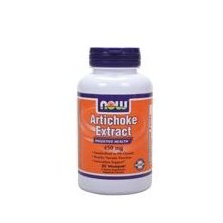 Artichoke extract is taken from the leaves of the artichoke plant. The leaves contain Cynarine which increases bile production from the liver & gall bladder. Bile is a bitter substance that is used in the lower digestive tract to help digest food, especially fats. Artichoke extract also contains luteolin & apigenin which are flavones. Luteolin looks to have some benefits as far as helping control the immune system & reducing inflammation. Apigenin benefits are sketchy at best, but it is a known inhibitor of the CYP2C9 enzyme which many pharmaceutical drugs rely on to work. So if you rely on one of these drugs, you might need to hold off on using artichoke extract despite the dosage of apigenin being small.
Artichoke extract is recommended mainly to improve a person's digestive health & is recommended for people with things like functional dyspepsia(chronic indigestion) or Irritable Bowel Syndrome. It also appears to help lower cholesterol levels & you may see it advertised as being a supplement for vascular support.
Now Foods Artichoke Extract comes in 450mg vegetarian capsules. The pills are somewhat sizable & they smell like a very strong jar of marinated artichoke hearts(mmm). This extract has been standardized to contain 5% Cynarin, how much someone actually needs is up in the air though. Now Foods' suggested usage is 1 – 3 capsules daily, preferable with meals.
Inactive ingredients consist of:
Cellulose
Potato Maltodextrin
Silica
Magnesium Stearate.
So what's my verdict on them? I took them with meals for about a week. I do believe I saw a difference as far as bile production goes. I am not sure if this is really a good thing as excess bile may have negative consequences, it could be irritating to the digestive tract & on it's way out it might not be that pleasant. I didn't really see any improvement in my bowel habits while taking the artichoke extract & it didn't really help my chronic indigestion. I did feel different, but I can't really say it was positive or negative. So, unfortunately my results are inconclusive & they could also be marred by other things going on with my health as well. I think the main thing to take away from it is that I felt they did something, possibly increasing bile production. For some people this could be very helpful, for others it may mean nothing & still for others it may very well be a negative.
To sum it up, artichoke extract is cheap & it's probably something worth trying if you have functional dyspepsia, Irritable Bowel Syndrome or some other digestive ailment. It probably isn't going to turn your life around, but for some it could make a difference, while for others it may make very little.