President Obama's controversial Patient Protection and Affordable Care Act has divided opinion regarding the direction the United States should take to contain healthcare costs while also expanding coverage.
The Patient Protection and Affordable Care Act aims to give individuals and businesses access to healthcare exchanges that allow them to browse competitively priced healthcare plans. It also limits the ability of health insurance companies to discriminate against people with preexisting conditions. Additionally the act reduces the costs of preventative care, such as physicals, colonoscopies or contraception while also expanding Medicaid eligibility.
While some states are starting to put together their healthcare exchanges in response to the Patient Protection and Affordable Care Act, other states are questioning the validity of the act itself & are taking their case all the way to the Supreme Court.
The main sticking point for those against the Patient Protection and Affordable Care Act is the requirement that all individuals must sign up for insurance or else they will have to pay an additional fee. Some feel this is unconstitutional. Detractors have also pointed to the expanded costs associated with the act. Those costs will be paid by expanded taxes on those making over $200,000, expanded Medicare taxes along with fees assessed to health insurance companies and tacked on to high end insurance plans. Proponents of the act state that these costs will be more than offset by the savings from patients being able to access preventative care, thus reducing the need for very costly emergency services. The act will also limit profit taking by healthcare & insurance providers, hopefully forcing them to focus more on healthcare rather than their bottom line.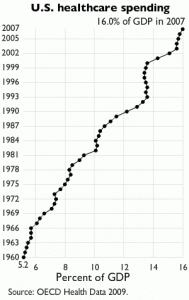 One thing that most people can agree on is that healthcare costs in the United States are out of control. Healthcare companies will have to start doing more with less. Immediate options include things like improving patient education so that fewer procedures are needed. For example, educating patients on antibiotic usage could help by reducing the number of antibiotics that need to be prescribed also reducing the chances for so called "superbugs" which become resistant to existing drugs requiring more investment in researching new drugs. Insurance companies have also been emphasising their preventative & general health services, going so far as to offer fitness & nutrition coaching to patients who are not sick so that they stay that way.
Managing health records and doctor performance will also be key in reducing costs. Some providers are investing heavily in healthcare information technology, going so far as to use cloud data techniques for storing medical records. That may cause some people have their own concerns about privacy, which is another topic entirely. Better records management will enable quicker doctor-to-doctor communication reducing the chances of duplicate tests or costly errors. Monitoring doctor performance may help companies remove incompetent doctors, thus lowering malpractice lawsuits & the insurance costs associated with them.
For those who have chronic illnesses Oregon has taken the novel approach of assigning a specific caseworker to these patients. The caseworkers job is to ensure proper communication between different medical providers, avoiding duplicate tests & making sure the patient is receiving proper care. Low cost urgent care centers are also improving efficiencies, such as companies like ZoomCare.
Regardless of the outcome of the upcoming Supreme Court ruling regarding the Patient Protection and Affordable Care Act, changes are coming to healthcare which will hopefully reduce costs, expand coverage & improve outcomes.