Tribute to The Best Toilet Paper In The World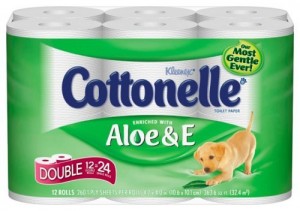 Yes! That's right, I am going to praise Conttonelle & their excellent Aloe & E toilet paper. Those with digestive problems are going to be using more TP than the average person. A lot of TP out there, even though it's soft, doesn't mean it doesn't cause wear & tear after awhile. Plus there are some products out there that are too soft, almost like you're using a blanket. Probably the best thing about Cotonelle Aloe & E is that it has Aloe & E in it, which is good for your skin and helps prevent irritation from occurring.
I looked high and low for an Aloe & E toilet paper product locally & Cottonelle Aloe & E was the only one I found & it works marvelously. Perhaps in your area you may have more choices, but I would strongly suggest you find one with Aloe in it or get Cottonelle Aloe & E. If you cannot find it locally you can buy :cottonelleaff: in bulk from Amazon.com, which if I didn't have it locally, I'd probably do it.
Plus, who doesn't like a cute puppy on the packaging :)?