The owner of IBS Tales, Sophie Lee, has written a new book called "Sophie's Story" which chronicles her life dealing with Irritable Bowel Syndrome.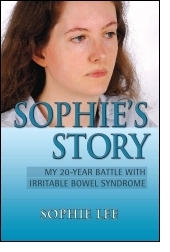 I want to tell the absolute truth about IBS, because the reality of this disorder is so often clouded by embarrassment and myths. Perhaps the most pervasive myth is that IBS means mild diarrhea and nothing more. Many people with no experience of IBS wonder why we have such difficulty in coping with our condition. This book shows why. – Sophie Lee, "Sophie's Story"
It would appear that "Sophie's Story" is aiming to be an accurate & detailed account of what life with Irritable Bowel Syndrome is like, even if the truth about IBS isn't pretty. Her story will probably resonate with many who have had similar frustrating & painful experiences while dealing with Irritable Bowel Syndrome.
Sophie has been kind enough to provide me with a review copy that I will read  & then review at a later date. You can purchase the book right now on Amazon
, Amazon UK
. For international orders it's best to check the IBS Tales website for further details.